[Kurzrezension] Kindred Spirits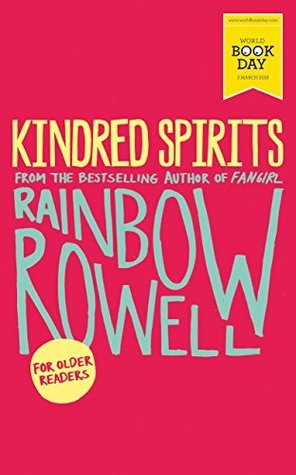 Kindred Spirits | Rainbow Rowell | 96 Seiten
'Everybody likes everything these days. The whole world is a nerd.'
'Are you mad because other people like Star Wars? Are you mad because people like me like Star Wars?'
'Maybe.'
If you broke Elena's heart, Star Wars would spill out. So when she decides to queue outside her local cinema to see the new movie, she's expecting a celebration with crowds of people who love Han, Luke and Leia just as much as she does. What she's not expecting is to be last in a line of only three people; to have to pee into a collectible Star Wars soda cup behind a dumpster or to meet that unlikely someone who just might truly understand the way she feels.
There were already two people sitting outside the theater when Elena got there, so she wouldn't be first in line.
Bis vor ein paar Tagen wusste ich noch gar nichts davon, dass Rainbow Rowell eine Kurzgeschichte als eBook rausbringt. Als ich es dann jedoch wusste, musste ich es natürlich sofort haben. Besonders die Thematik fand ich total super. Ich bin zwar kein
soo
extremer Star Wars- Fan, aber ich konnte doch mit allen Anspielungen etwas anfangen. Die Idee finde ich auch wirklich süß.
Sonst kann ich nur noch sagen, dass Kurzgeschichten wohl echt nicht so mein Ding sind. Es war zwar eine echt tolle Geschichte, aber sie war einfach zu kurz. Ich kann in Kurzgeschichten nie eine richtige Beziehung zu den Charakteren aufbauen. Auch hier nicht. Und ich kann mich auch nie wirklich überwinden, den Geschichten mehr als vier Punkte zu geben - außer, es ist eine Geschichte, die sich auf ein "ganzes" Buch bezieht.